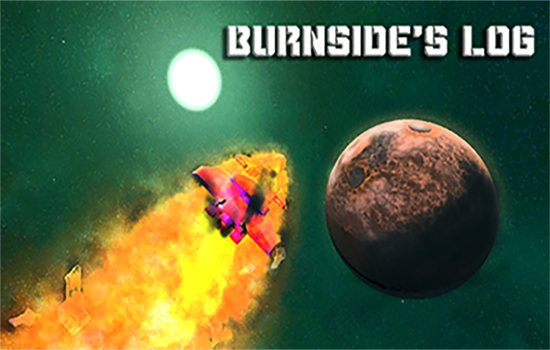 Burnside's Log
A downloadable game for Windows
Chief Engineer Steve Burnside is the sole survivor after his ship crash lands into a remote planet. While he is lucky to survive the crash, the wildlife on the planet aims to change that.
Build Turrets to fight for your life
Build structures to keep the creatures away
A mix of RTS and Tower defense gameplay!
Fight for your survival!
Check out our Facebook page!
Team Lead, Milestones, Character Animations,Environmental Artist, Programming, GDD - Brian Lewis
Game Writer, UI Art, Dialogue Scripting, Marketing, QA - Joel Willis
Enemy Art, Modeler, FX, QA, Enemy Animations- Phil Reavis
Programming, Asset Implementation, Enemy Animations, Buildables, Enemy Scripting, UI, Scripting - Keith Ty Havron
QA, Turret Behaviors, Bug Fixing, Programming - Jonathan Biserchich
Music, Playtest Plan, Sound Design, Concept -Quade MacCauley
Install instructions
Download the Zip extract where ever you like. Make sure that the Data folder is with the .Exe file.
Double click the .Exe file and set your desired screen resolution.
Enjoy!